I've been promising this post for quite a few weeks now, and I just read
this post
by Tessa from
New Duds
, and it motivated me to finally write this...
My Fall/Winter line this year will have fewer products. Lotion, perfume, facial cleansing oil, lip balm, and a few healing hand salves. That's it. Those are the products that people are buying from me the most, as well as being the products that I most enjoy making. The rest of the products will be dropped from the line.
I am a one-woman-show running my business and making all of my products, and this Summer has been a huge wake-up call for me. New house that needs tons of work before we can move in, old house that needs to be sold, kids that need their Mom to play with them, husband that needs a partner, and a business with way to many products for one person to make on her own, while still giving these other things the attention they deserve. I put a few too many things on my plate, and lots of stuff, including my health, suffered for it. My Doctor told me that coffee was adding an extra stimulant to my already over-stimulated life, and that I should probably stop drinking it. Ummmm...No. But, I did take another bit of my Doc's advice, and learn to chill a little (with a coffee mug still firmly grasped in my hand). Part of this learn-to-chill journey included making some tough business decisions, like seriously editing my line, and saying no to a few shows. In the long run though, I think these changes will help me be a better businesswoman. It's forced me to take a hard look at what I can realistically handle before jumping at every opportunity. Having fewer products will give me the ability to keep offering really wicked awesome stuff to my customers, and still give me time for
chill
stuff like family time, yoga, and of course, coffee...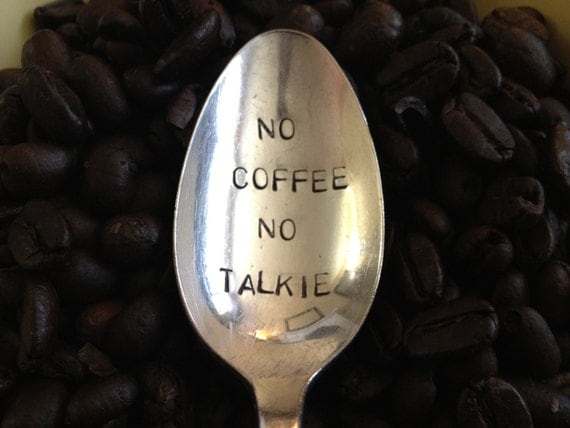 Stay tuned for the unveiling of the new line in just a few weeks!
Thanks so much for staying supportive and awesome, and thanks for stopping by,
~Lindsey
"No Coffee No Talkie" spoon by
BellaJacksonStudios
on Etsy.